Business Intelligence in Manufacturing Sector
Business Intelligence
Business Intelligence (BI) refers to technologies, applications and practices for the collection, integration, analysis, and presentation of data in a readable format, and thus assisting in business decision-making.
Business intelligence systems provide business operational view by using the data gathered into the data warehouse from the various sources like ERP system, CRM, Tally, HRM etc. Software elements provide support to BI system for the Reporting, Data visualization, data mining, data analysis etc.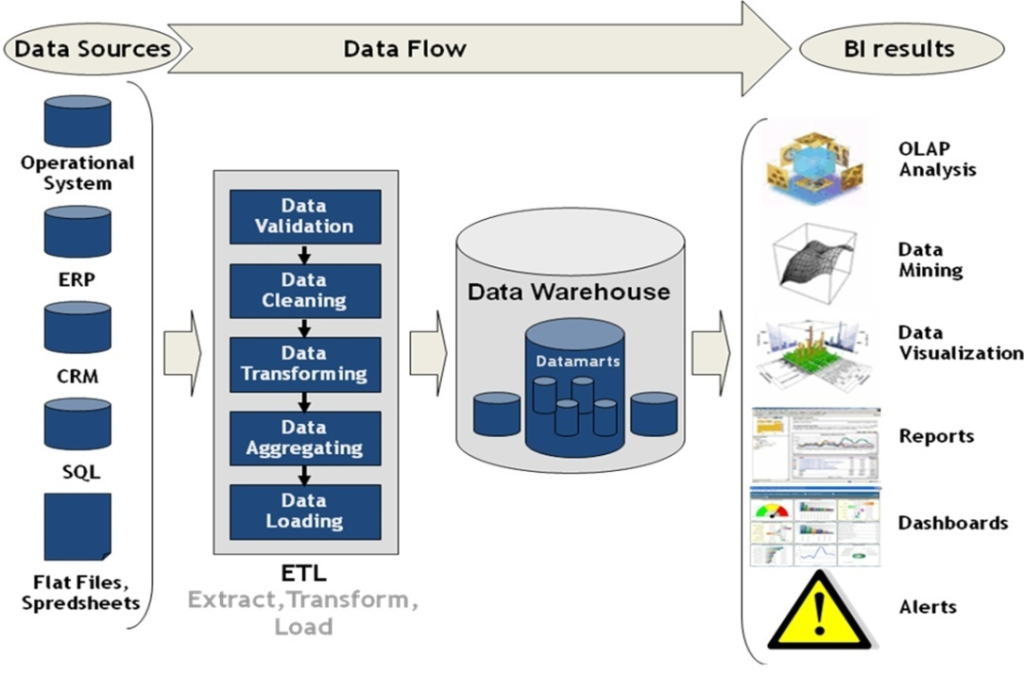 Importance of Business Intelligence (BI) in Manufacturing Industry
The manufacturing industry has undergone significant changes in the past several decades. Global competition is greater today than ever before in history. Local or regional manufacturers can no longer hope to achieve a competitive advantage based on location or geography alone. Moreover manufacturers sell their products to end customers or to other manufacturers who use the products as components. There are many parties involved in this supply chain with each needing to add value to the end product or service to differentiate themselves and drive competitive advantage. This interdependent and connected value chain relies on transparency and collaboration in order to deliver products at the appropriate cost and quality.
Manufacturing companies have extensive networks of suppliers and customers, distributor, retailers yielding immense amounts of information. Zettabytes of information are now created annually. Very little of that data (0.5% worldwide) has been analyzed in any way. It's hard to keep track of important information and even to know which information is valuable, and manufacturers need the tools to take advantage of this information. Business Intelligence software offers manufacturing industry to report on, analyze, and monitor the vast networks of data thus helping in reducing the risk factors, better understanding of forecasting using the data, better decision making.
Following business area's are of prime concern for manufacturers :
Trace the metrics and indicators that improves customer satisfaction
Lead time to fulfill customer orders across sales and distribution channels
Improve order provisioning, through analysis of historical data
Maintaining appropriate Inventory levels to reduce inventory cost but also fulfill demand without delay
Analysis of current usage of products to go for new range of products.
Tracking service, to better predict and prepare inventory and production levels
  Benefits of Using Business Intelligence in Manufacturing:
Inventory Management

: Many firms are implementing just-in-time inventory models to keep expenses at a minimum.  However, in order for this approach to work, procurement professionals must know immediately when parts and components need to be reordered.  The dynamic alert capabilities within most business intelligence solutions can ensure that buyers are instantly notified when inventory dips below desired thresholds.  So, all components needed for production are always on hand.
Quality Assurance : Nothing negatively impacts customer satisfaction and retention – not to mention reputation and "word of mouth" – than poor product quality.  Yet achieving full visibility into the factors that affect how well products are made can be difficult.  A business intelligence software package can make that kind of insight a reality, allowing for in-depth analysis of all production and QA processes, so vital patterns and trends can be uncovered, and issues can be corrected as quickly as possible.
Financial Management : Manufacturers must focus on both external profit building and internal cost reductions to improve their profit margins. Companies can manage their finances by identifying areas where they can increase profits and improve efficiency. Manufacturers can also develop budgets that incorporate production, operation, sales, fulfillment, and finance figures for optimal forecasting and planning.
Installed base tracking : For many manufacturers, keeping track of where their products are installed gives them tremendous opportunities for post-sales services and additional sales. Having adequate and accurate installed base data is essential if manufacturers want to maximize their profits from this revenue source. BI tools reporting and monitoring capabilities enable manufacturers to track installed products, as well as the costs and revenues associated with after-sales services to determine the most cost-effective offerings. In addition, users can set up real-time alerts for notification of maintenance schedule requirements to take advantage of additional marketing opportunities.
    Following are the main KPIs in the Manufacturing Sector
1. Inventory Management : Manufacturing companies have huge inventories to track and move. It's essential for manufacturers to monitor their inventories to reduce over-capacity and ensure sufficient supplies. Also companies can track inventory usage across location and time, monitor inventory costs and profits through multiple layers of information, and identify inventory overage or obsolete or slow moving inventory.
KPIs are :
Average Item Inventory                                                     Days of Inventory Supply
Finished Goods on Hand                                                  Inventory Costs
Inventory Turns                                                                    Lease Expenses
Order Fulfillment Lead Time                                           Percentage of Back-orders
Sum of Shipment Lead Times                                        Work in Progress Costs
2. Financial Management : Manufacturers must focus on both external profit building and internal cost reductions to improve their profit margins. Companies can manage their finance by identifying areas where they can increase profits and improve efficiency.
KPIs are:
Operating Expense                                                             Total Sales
Planning Costs                                                                     Procurement Costs
Cost of Goods Sold                                                             Cash-to-Cash Cycle Time
% POs Invoiced Properly                                                  Inventory Costs
Investments                                                                          Raw Material Costs
Also the other processes of manufacturing sector can be measured through KPIs which are Material management, Workforce Management, Customer Demand Management, Equipment Management, Project Management, Outcome Performance.
Still the use of BI in manufacturing has not come up to its right potential. There is still a wide scope and far wider decisions regarding investment, production and procurement can be made with the help of this. Manufacturers who are not using the BI applications won't be able to make long term holistic decisions and will be at significant disadvantage. Hence, Business Intelligence is a must if manufacturing units want to generate critical information which can drive improvements and increase production without adding more work-force.
  Example for the Business Intelligence in Manufacturing Sector
BI tools provide features  like data visualization, data analysis, etc. BI uses the KPIs that will be helpful in performing the analysis. Following example shows the use of BI in manufacturing sector in such a way that a person from the non-technical background can use the tool by selecting the factors.
Suppose the user want to see the machine utilization performed in the previous month. Then user is required to select the various parameters like date range, type of operation, machine number, select shift, machine model etc. In data range parameter, user is able to select the month (or start date , end date) as required.
Then user selects the type of operation, machine no (it can include single or multiple machines), number of shifts and the machine model involved in manufacturing. Later on the user will be able to view the respective based on the factors selected as given below. The machine utilization value is given using a line chart. Moreover the user can also view other charts as required like bar chart, Area chart, Pie chart, Scatter chart, etc.
Based on the value it seems that machine is not fully utilized in that month. So, what are the factors responsible for it like No operator, lack of material, no tool, no power, no seter, testing going on etc. The user can see the distribution in the below chart. Below chart shows the no operator factor constitutes comparable very high percentage. This result will give the scope of performance improvement to take better decision and output.
BI in manufacturing
Business Intelligence
Business Intelligence in Manufacturing Industry
Business Intelligence in manufacturing sector
How Does the Technology Industry Use Business Intelligence
How is business intelligence used in manufacturing
The Power of Business Intelligence in Manufacturing
The Role of Business Intelligence (BI) in Manufacturing
What is the main role of business intelligence in business industry