Join us as we explore the power of Amazon QuickSight, where we'll show you how to easily create users and share your analysis and dashboards with them in a few simple steps.
1. After signing into the Amazon account, click on the Manage Quicksight at the top right corner of page.
2. Click on Manage Users, choose invite users to create a new Quicksight account by giving a username and valid email id
3. Enter the mail and click the '+'
4. Give the respective role and I AM User YES/NO and click on invite button.
ADMIN: Admin has Highest Privilege and can create multiple users
AUTHOR: Author can create analysis, dashboards and also can share them
READER: Reader can only view the dashboards shared with them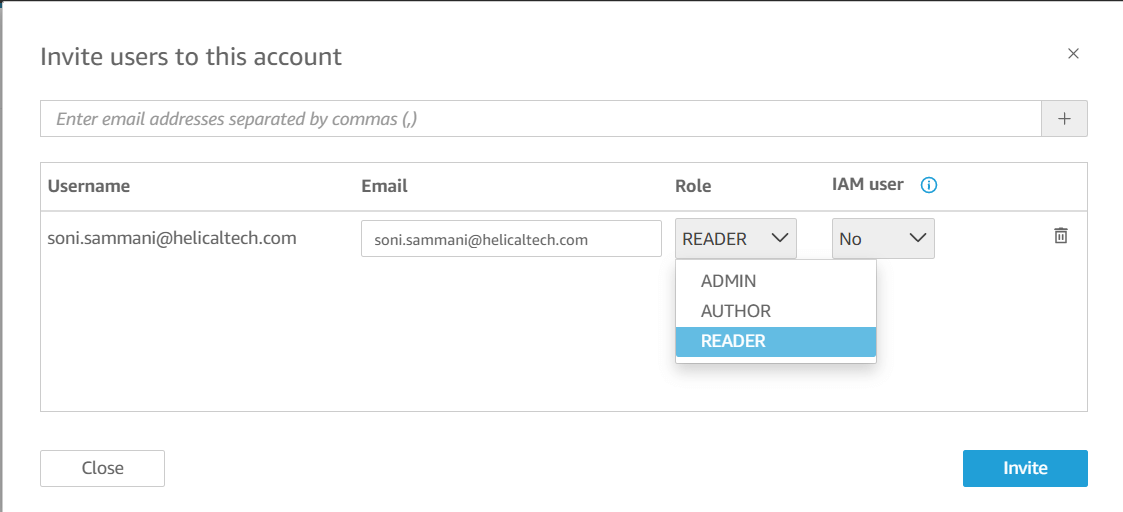 5. This will send the invite to the mail, click the link given in the mail and create a username and password
6. Now we can share the analysis, dashboard, shared folders and can also make as co-owner for any analytics with users
Sharing the analysis and Dashboard with different Users:
1. Open the analyzer you want to share, click the share button on the top right corner then select share analysis and give the user which you have created using above steps.
2. Click the user/ group we wanted and share (If the user which we created have admin /author role then only we can share the analysis)
3. We can always change the permissions by using Manage analysis permissions at the bottom in the above share analysis page
4. We can share the dashboard in the same way as analysis- click the share button->Share dashboard
5. Give the User/group name that you want to share the dashboard with.
6. Click Share this view to get the dashboard link- this link can also be used to integrate the dashboard in the webpage.
Thank You
Soni Sammani
Helical IT Solutions

Best Open Source Business Intelligence Software Helical Insight is Here
A Business Intelligence Framework

How do I share a dashboard with another user
How do I share an analysis in QuickSight?
quicksight add analysis to dashboard
quicksight share dashboard
share quicksight dashboard externally
Share your Analysis and Dashboard Amazon Quicksight
Sharing Amazon QuickSight analyses
Sharing Amazon QuickSight dashboards
Sharing Your Analysis and Insights Using Amazon Quicksight