Most times our source Tables differs from our Destination Table, but in other times it doesn't.In a scenario where our source table is the same as our destination, then we might come into a situation where our source table could be changed in terms of data type or length or even a new column added.
So hence this blogs shows how we can make life easy by having a simple Job that runs in a loop on all the similar tables in both source and destination, to check if there is a change in the schema
Here we are using simple Job to perform the comparison of the Source Table with the destination table.
In the GetSourceSchema:
This uses a table input to run a Query Limit 1 i.e
SELECT  * from person_employment,
Note: Here person_employment can be parameterized such that we can run the tables comparison in Loop and the name person_employment can be used as the Schema File Name (as we go further you will get a clear picture).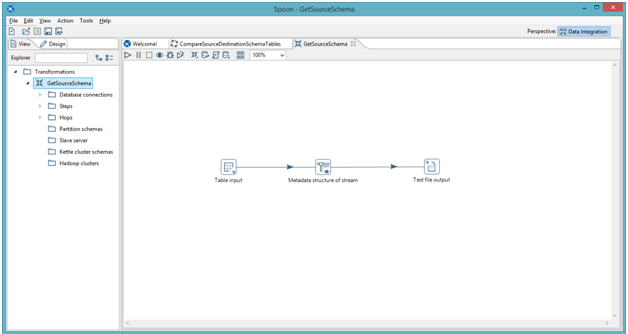 And then we use a Metadata structure of stream which takes the metadata of the Table and prints it in a text file which we will need for comparison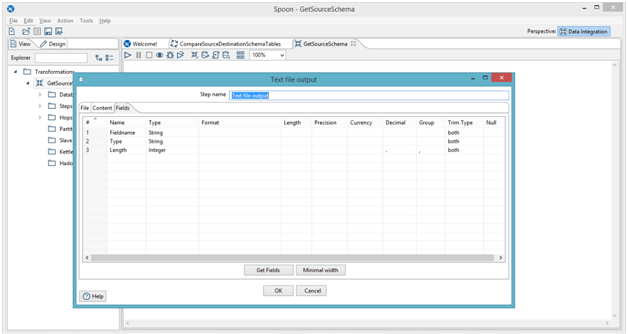 So from the Metadata Stream, we get a lot of Fields but the one I needed to compare is just the field name because I assume the source and destination field name are the same, other fields are Type and Length.
The same goes for GetDestinationSchema
Parametrizing the tables is a good idea so we can save the Text files with a unique name each time. And then pass/use the parameterized text name to compare.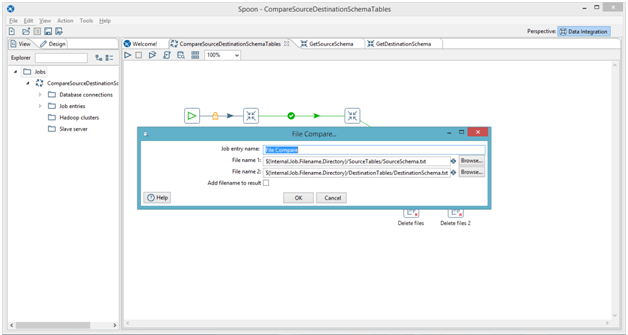 If they match you can change the direction on what you want to do next if it fails you can send a mail to saying hey this table doesn't match.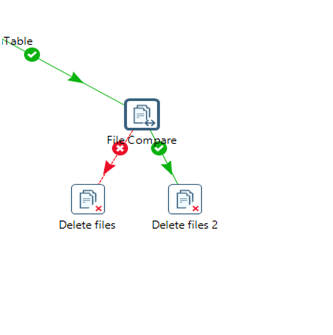 So a lot we can do, to loop you can reference: Loops in Pentaho Data Integration or Loops Pentaho Data Integration 2.0. This whole Pentaho Job is just a simple raw Job, which can be tailored to how you want it.
In case if you have any queries please get us at support@helicaltech.com
Thank You
Sohail Izebhijie
Helical IT Solutions Pvt Ltd
Compare table schemas before starting a job
Comparing Tables Schemas with Pentaho Data Integration
data integration
PDI
pentaho
pentaho consulting
pentaho consulting services
pentaho data integration
Pentaho schema