What is Business Intelligence
To turn any business establishment profitable, the managers & the work force is highly reliant on decisions & those decisions are dependent on the kind of information available. This is where Business Intelligence comes into picture
Business Intelligence (BI) refers to technologies, applications and practices for the collection, integration, analysis, and presentation of business information and also sometimes to the information itself. The purpose of BI is to support better business decision-making.
BI systems provide historical, current, and predictive views of business operations, most often using data that has been gathered into a data warehouse or a data mart and occasionally working from operational data. Software elements that make up the BI system support reporting, interactive "slice-and-dice" pivot-table analyses, visualization, and statistical data mining.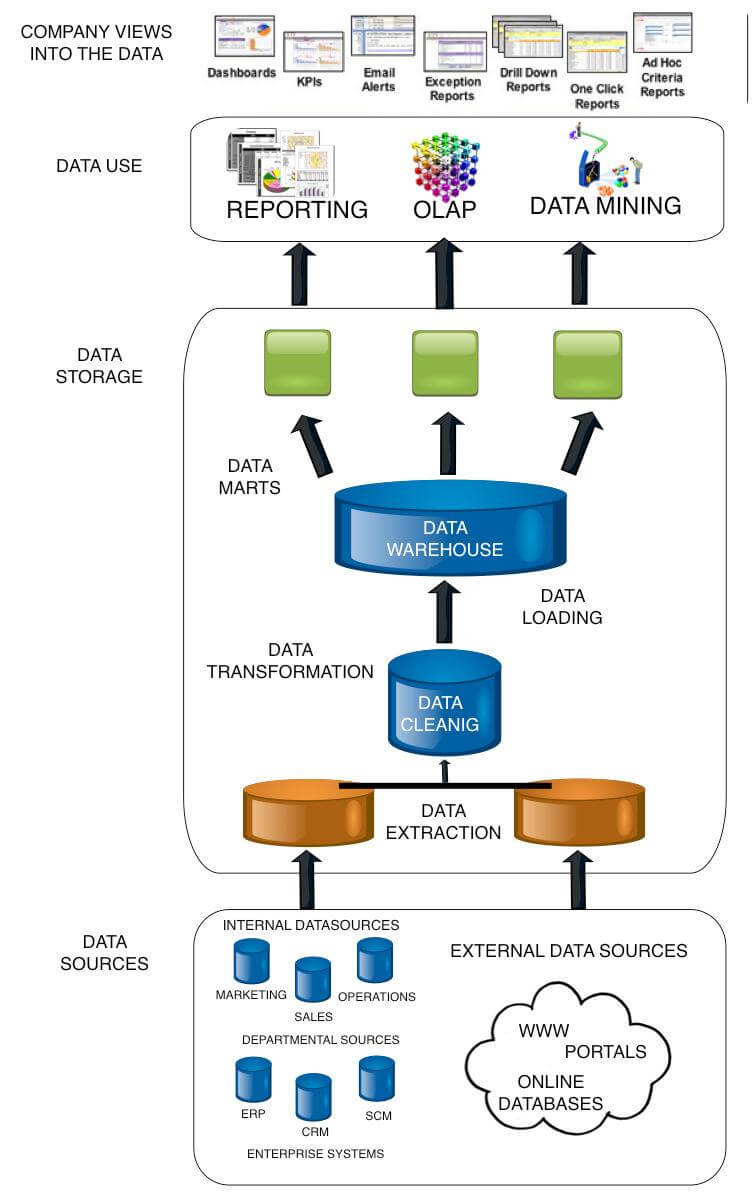 Importance of BI in healthcare Industry
Today, healthcare establishments are also generating a lot of data (Data in healthcare – e.g., encounters, labs, pharmacy, membership, finance, claims, billing, CRM, EMR, HMS, etc). Though, they have lot of data, but information is very less.
Are you looking for Best business intelligence tool for healthcare industry
Get started with Helical Insight. Helical Insight is best business intelligence tool for for healthcare industry

Clik Here to Free Download


There are three broad categories of data that any healthcare organization is interested in : financial, operational & clinical. Healthcare organizations must apply business intelligence to organize clinical, business and operational data for decision-making purposes. This data is used to support programs like disease management, outcomes management, clinical performance and process improvement, cost and waste reduction, quality accreditation and predictive analytics.
Forward-thinking healthcare organizations realize that data—and, thus, business intelligence (BI)—is at the center of informed and precise decision-making that will improve patient and service outcomes in addition to ensuring their organizations' future, thus, many leading hospitals have already adopted BI
Harvard Medical School, St. Jude Children's Research, CIBA, & Mutual of Omaha
Blue Cross Blue Shield of Florida
Columbus Children's Hospital
St. Joseph Medical Center & St. Joseph's Hospital
International Federation of Red Cross & Crescent
St. Luke's Medical Clinic, Houston Infectious
Diseases Associated
Denver Health and Hospital Authority (BI is especially crucial to "avoid both waste and having patients fall between the cracks)
Lincolnshire Partnership Foundation Trust (plunged into BI because of a specific need to better analyze the efficiency of its service lines)
Hartford Hospital
Nemours
Hospital for Sick Children in Toronto
University Health Network
Benefits of using Business Intelligence in a healthcare establishment
a. Consolidation & protection of data since there would be a single point access of data Better protection of patient data is also possible by providing access to data only to those with appropriate access levels.
b. Improved Efficiency :- Since any type of information & report, whichever is required at any time. This will enable better decision making and improved efficiency
c. Increased revenue & reduce costs :- BI makes it possible possible to eliminate waste and mine data stores to examine and recoup denied claims in healthcare organizations. Costs of: healthcare professionals, lab equipment and consumables, pharmaceuticals/ medical material, treatment per diagnosis and cost per type of medical intervention (e.g. specific medical operation) can be reduced as well
d. Improved Margins :- BI (BI/balanced scorecard program) helps to improve gross margins of healthcare organizations.
Are you looking for Best business intelligence tool for healthcare industry
Get started with Helical Insight. Helical Insight is best business intelligence tool for for healthcare industry

Get your 30 Days Trail Version


e. Improved patients satisfaction by using BI and analytic tools.
f. Improved Patient Treatment & Care :- Through the use of BI, healthcare professionals have easy access to patient's data and they can create a variety of classifications/reports based on demographic data, sex, age, and so on. Thanks to the evidence based medicine and capture of medical history of the patient doctors can accurate diagnosis and apply efficient treatment with reduction of risks during treatment (e.g. related to on time admittance, the use of medicine, biomedical equipment, blood transfusions). Timely and effective clinical decisions are better facilitated by increasing the potential of BI.
 g. Reduction of medical errors and improved patients safety. It could be reached by supporting medical research and data treatment. BI systems can support a larger Healthcare system, by the exchange of medical information on a patient. Improved decision-making in the area of comprehensive health care policy by the authorities of the organization of the health sector. It can be reached with monitoring the performance of doctors, departments and medical material requirements. Multiple groups or individuals can be put together by emphasizing the analysis and accurate data, which brings them closer to the point of service in order to enhance decision making & make data actionable.
h. Better data management helps in better patient treatment in terms of timely admittance, diagnosis and risk in casualty.
i. Some other benefits includes supply cost optimization, fraud detection
Main KPIs & Performance Indicators
The main KPIs which can be used to be displayed via reports & dashboards are mentioned below.
Clinical Data KPI
Healthcare establishment can improve clinical quality and resource utilization by effectively monitoring and measuring clinical performance and outcomes data. By delivering analysis from multiple sources at once, BI enables organizations to track large amounts of information stemming from clinical activities and identify the most efficient practices. BI helps providers identify trends and anomalies, and analyze risk in clinical care. With a lot of stakeholders involved like doctors, diagnostic centers, pharmacy etc all of them cant function as independent silos. With BI, all constituents can work from the same data over a secure extranet with information personalized based on security credentials. BI's unique centralized administration and role-based security assures that healthcare providers have security measures at every layer of the architecture. With secure, essential clinical information, individual practitioners can diagnose and prescribe more quickly and provide top quality care with greater peace of mind.
The different types of reports permissible are
| | |
| --- | --- |
| Avg cost per case | Clinical outcomes |
| Cost & clinical data | Cost affectiveness |
| Disease management | In-patient admission rates |
| Investment in research programs | No of procedures vs benchmarks |
| Patient safety & staffing | Performance reporting |
| Population risk | Resource cosumption vs benchmark |
| Response time | Treatment |
Patient Care KPI
Healthcare providers want to offer the highest-quality patient care in the most efficient way possible with improved patient access to care. BI enables the right people to access the right information at the right time, delivering a single platform to healthcare providers for sharing information with patients for better decision-making and connecting patients across hospital, nursing home, physician office, and community social support settings. By providing easy, secure access to crucial information, BI supports safe care delivery, assists clinicians in evidence-based clinical decision-making, and facilitates seamless care coordination across clinical settings. Providers use BI to monitor patient diagnoses and use of healthcare services in order to improve patient care, reduce wait times, and administer more effective treatments.
| | |
| --- | --- |
| Clinical Outcomes | Day to next appointment |
| Dispatch request & monitoring | Patient functionality |
| Patients wait time in admission | Patients wait time in pharmacy |
| Service complaints | Service Level Agreement reporting |
| Services performed | Timeliness of service |
Financial KPI
Healthcare organizations need visibility into the full scope of their financial operations. BI provides full transparency, analysis, and delivery of financial and operational data. BI enables healthcare providers to drill from reports into detailed analyses of costs and revenues, view data underlying cash flow statements, and compare planned versus actual income and margin. BI's analytical capabilities allow providers to analyze current care practice patterns to identify unnecessary or under-utilized services, execute cash flow analysis, forecast collections, and monitor underwriting requirements. In addition, BI enables healthcare organizations to meet statutory reporting requirements and ensure accountability from financial analysts to business unit management, executives, and directors.
| | |
| --- | --- |
| Accounts payable | Accounts receivable |
| Accrued expenses | Assets in current vs prior period |
| Bad debt as % of net revenue | Budget variance analysis |
| Capital expenditure growth rate | Cash & equivalents |
| Cash collected vs target | Cash on hand |
| Current asset turnover | Current Ratio |
| Customer Plan migration | Net assets |
| Net income | Operating margin |
| % of capital expenses | % of cash flow to total debt |
| % of cash flow to total liabilities | % of charitable revenue |
| % of debt to capitalization | % of out patient revenue |
Quality & Performance KPI
Providing safe, quality care is a top priority for healthcare organizations. BI allows providers to improve performance by leveraging evidence-based performance data, tracking variations in quality, providing patient dashboards, setting alerts, and checking drug interactions. Providers can use BI to monitor the quality of their care according to the Health Plan Employer Data and Information Set (HEDIS) standards established by the National Committee for Quality Assurance to allow for performance comparisons across quality, patient access, patient satisfaction, utilization, and financials. Additionally, Dashboard can be used for improving quality at healthcare organizations, which empowers managers to make more timely decisions and participate in on-the-spot quality improvements. BI allows providers to identify the presence or absence of interventions recommended by evidence based medicine.
Let's Start with Helical Insight for free to create good reports with your health care data.
Helical Insight is best business intelligence tool for for healthcare industry

Grab The Free Trail


| | |
| --- | --- |
| Dose | Frequency of attacks |
| Handling costs | Avg length of stay for patients |
| Length of visit with nurse practitioner | Length of visit with physician |
| Medication error | Monthly drug cost |
| % of follow ups | No of emergency room visits |
| No of hospitalizations | No of patients admitted |
| No of patients referred outside | No of patients with infections |
| No of patients with vaccinations | No of physicians visit |
| Packaging cost | Patients satisfaction |
Marketing KPIs:-
With a No. of hospitals, clinics & nursing centers, healthcare providers must place a greater focus on their marketing efforts to stay competitive. BI helps analyze the success of marketing efforts designed to demonstrate the clinical effectiveness of their products and services, create an increased feeling of overall wellness, and reduce workplace absenteeism. BI also allow providers to determine the most cost-effective marketing techniques by tracking campaign costs against budget, calculating the return on investment for campaigns, and comparing performance against goals. In addition, BI allows healthcare providers to use dashboards to show which products and services are profitable in specific patient segments and measure how their marketing efforts and corporate communications alter brand perception and affect brand performance.
| | |
| --- | --- |
| Acquisition | Advertising budget per procedure |
| Avg visit length to website | Brand Management |
| Churn Analysis | Customer Profitability |
| Customer Segmentation | Demographic Analysis |
| Loyalty Program | Market Share by Business |
| Marketing Focus group scores | No of visit to website |
| Patient satisfaction | Physician practices |
| Preference & permission bundling | Retention |
Above mentioned are some of the commonly used KPIs. Keeping a tab on them via selecting a proper Business Intelligence tool & correct implementation, can surely help them to rise above the competition & deliver a world class service to the patients.
For any query regarding Business Intelligence implementation, plz mail nikhilesh@helicaltech.com
Nikhilesh
+91-7893947676

Best Open Source Business Intelligence Software Helical Insight is Here
A Business Intelligence Framework

business intelligence in health Care
clinical business intelligence
healthcare analytics
Healthcare Business Intelligence Benefits
Healthcare Business Intelligence Features
Importance of Business Intelligence in Healthcare
Role of Business Intelligence in Healthcare Industry
What is business intelligence in health Care?
Why is business intelligence important in healthcare?